Roll over image to zoom in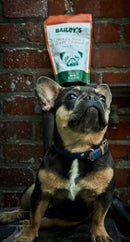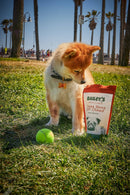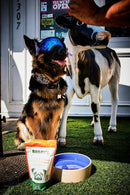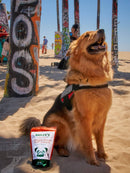 Description
Hey pet pawrents, ready to try our award-winning soft chews? We know how it is as fellow pet parents who treat their dog's as good (if not better) than our own children sometimes... (😂) so we want to provide you with the best veterinarian formulated CBD soft chews money can buy!
Plus, who said treat time had to be boring?! Satisfy your pup's bacon craving with these delicious Omega Hemp Soft Chews!🥓
Packed with fatty acids to support your furry friend's growth and overall bodily function, these chews make the perfect treat for any busy or active pup.
Each soft chew contains 3mg of our finest CBD-rich full spectrum hemp oil, contributing to your pup's daily dose of CBD to help keep them calm, healthy & happy. 
Whether used as a reward or a daily snack, these mouth watering treats are so tasty, even you'll need to keep your hands off 'em!😋
Specially formulated for canines (dogs) under the advisory of our consulting veterinarian Dr. Robert J Silver. 
Omega fatty acids have many benefits for dogs including:
Supports Brain Function & Development
Promotes Joint & Hip Health
Reduces Inflammation
Supports Immune Function
Promotes Heart & Kidney Health
Improves Skin & Coat Health Of Dogs
Anxiety Support
Many pet owners observe the best results with consistent daily use.
Every order is backed by our 30 day satisfaction guarantee, so you can buy with confidence. And you can feel good about your purchase because Bailey's donates 1 bottle of CBD for every 4 sold to a rescue pet in need. 
At Bailey's we are committed to educating our customers on why this plant extract is so beneficial for our pet's wellness. For more information on how CBD may be able to benefit your pet, please email us at info@baileyshemp.com or call us anytime at 844-738-7223.
Some pet owners wonder "will CBD make my pet feel high?" and the answer is NO WAY! Our products are nonintoxicating and made to support a healthy, happy and balanced pet lifestyle. 
So what are you waiting for?! Join over 10,000 pet owners seeing success using Bailey's CBD oil for their ailing pets. Use code SAVE5 for $5 OFF on your first order.
4.8oz bag = 135G (30 count)
Suggested Use (Twice Daily): 
1/2 Chew For <20lbs 

1 Chew For 20-50lbs

2 Chews For 50-75lbs

3-4 Chews For 75+lbs
Active Ingredients: 
Per Chew (4.5 Grams)
Omega 3 Fatty Acids - 100MG

Omega 6 Fatty Acids - 80MG

Omega 9 Fatty Acids - 50MG

Phytocannabinoids (CBD) - 3MG (0.3% THC content or less)
Inactive Ingredients: Acacia Gum, Ascorbic Acid, Beef Liver, Brewers Dried Yeast (Grain & Soy Free), Calcium Sulfate Dehydrate, Flaxseed Oil, Glycerin, K-Thrive™, Microcrystalline Cellulose, Natural Bacon Flavor, Natural Tocopherols (Natural Perservative), Organic Sweet Potato Root Powder, Pectin (Citrus), Sunflower Lecithin, Water. 
Microbrial Analysis: 
Total:
Yeast and Mold = <1000 cfu/g
E.Coli = Negative
Salmonella = Negative
This product has not been evaluated by the Food and Drug Administration, and this information is not intended to diagnose, treat or cure any disease. Please consult with your veterinarian before using our product. Product contains less than .3% THC.