Roll over image to zoom in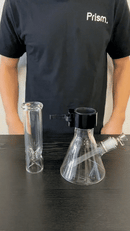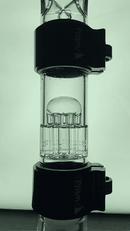 Description
WHAT'S INCLUDED: Clear Standard Mouthpiece, Red Clamp, Tree Percolator, Gold Clamp, Big Tree Percolator, Green Clamp, Clear Beaker Base, Clear 14mm Bowl, and Clear Downstem

This is Prism's version of the classic beaker double percolator bong, and let's face it, it's a beautiful tall bong. With three different levels of filtration, this thing pulls super smooth, but has a classic beaker look. With our custom bong system, it's easy to break it down for ease of cleaning, part replacement, switching it up, and throwing in a backpack for an adventure.
- Beaker Base Thickness: 7mm
- Mouthpiece and Percolator Thicknesses: 5mm
- Overall Height: 25.5"
- Tube Diameter: 2" (mouthpiece) 2.5" (percolator), & 6" (base) 
- Bowl Joint: 14mm female
- Downstem Joint: 18mm female
- Check out our clamp video on how to assemble.