Roll over image to zoom in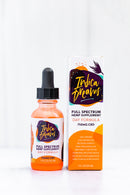 Description
Made from the Sativa strain of the hemp plant and is best for supporting alertness and energy

More Details:
• Perfect for beginners and advanced CBD lovers: Choose a strength that works for YOUR body + get your dosage right with easy serving suggestions.
• Tested 3x: Every batch is tested 3x, including once after bottling for potency, safety, and THC levels.
• 100% hemp-derived: We guarantee there's less than 0.3% THC in every drop.
• Whole-plant benefits with full-spectrum CBD: Absorb all the natural goodness of the hemp plant (with less processing!).
• Natural blood orange flavor: Enjoy the golden, 100% natural taste of blood orange.
• CO2 extracted: You can trust our CBD oil to be safe for the environment and for you.
• Extra Virgin Olive Oil carrier: Savor the light flavor and consistency.