Roll over image to zoom in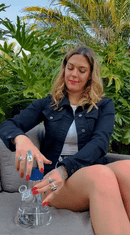 Description
The Sunflower Beaker Single Stack is the perfect starter piece for your custom bong collection. It comes with the Sunflower White Tall Mouthpiece, 7mm thick Sunflower Beaker Base, a clear downstem and 14mm bowl, and a black Halo. With our custom bong system, it's easy to break it down for ease of cleaning, part replacement, switching it up, and throwing in a backpack for an adventure.
- Beaker Base Thickness: 7mm
- Tall Mouthpiece Thickness: 5mm
- Overall Height: 17.8"
- Tube Diameter: 2" (mouthpiece) 6" (base)
- Bowl Joint: 14mm female
- Downstem Joint: 18mm female