Roll over image to zoom in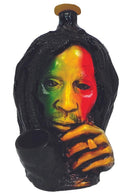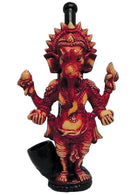 Description
These Resin Hand Made Pipes Are Unique! They feature impressive quality & design! Check out this wide variety of pipes to choose from. Surely there is something for everyone. These pipes are durable, affordable, and will look great in your shop. Order in bulk now! Choose from: Mushrooms, Frogs, Monkeys, Unicorns, and much much more....
1 Count 
Various Designs 
All Units Are Greater Than 5 Inches In Height 
**COLOR & STYLE MAY VARY**
Handmade Resin Pipes That Make All your Creative Dreams Come True!
This incredible finely crafted handmade smoking pipe is made with premium the best quality resin glass. Each pipe features a creative character or a figure, which makes the product exceptionally eye-catching and attracts future buyers. The bright, colorful design of these tobacco pipes makes them easy to transport and use on the go. Additionally, there is also a choke on the left-hand side of each strain pipe which allows for airflow regulation which makes it very appealing to most customers.
Pick Your Color! Pick your Style
With so many exciting styles, shades and subjects to choose from, these amazing tobacco pipes give you the option of choosing between unicorns, monkeys, frogs and unicorns. The bold, bright colors are both breathtaking and lively, making sure that you will stand out among the crowd.