Roll over image to zoom in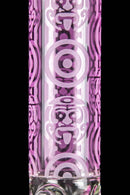 Description
 Selected this Tribal Head Etched Water Pipe by Caliber. This is a 14-inch tall beaker style bong made of thick and durable glass. It features an etched tribal head design on the neck, base, and the extra thick bottom.

The water pipe is equipped with a 18.8mm female joint and comes with a 18.8mm male removable diffused downstem that will create lots of small bubbles when you take your rip. You also get a 14.5mm male funnel-style flower bowl complete with a handle for easy lifting. There's an ice pinch built into the neck of the bong for those times you want to add some extra coolness to your hits.

The Tribal Head is available in an array of fantastic colors. It's a great pick whether you need a new daily driver or want to add some color and style to your growing glass collection. All in all, this is a sturdy, elegant, and durable bong you can count on for delivering smooth and tasty rips of your favorite flower.